Cirugía plástica periodontal
Este curso está dirigido a aquellos profesionales que quieren iniciarse o perfeccionarse en la cirugía plástica periodontal. Contenido del curso:
Manejo de recesiones gingivales unitarias y múltiples: diseño de colgajo trapezoidal con avance coronal, colgajo desplazado lateral, túnel modificado, VISTA, avance coronal modificado.
Toma de injerto conectivo del paladar: incisión única, injerto libre des-epitelizado, técnica trap-door, injerto de tuberosidad.
Toma de decisiones en lesiones cervicales no curiosas asociadas a recesiones gingivales
Cubrimiento radicular con sustitutos de injerto conectivo autólogo.
(Práctica clínica sobre cadáver fresco)
The speakers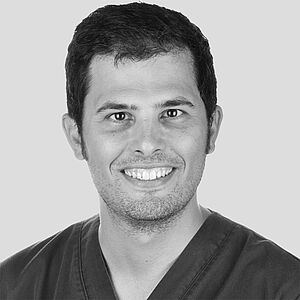 Dr. Gonzalo Blasi
Médico odontólogo por la Universitat Internacional de Catalunya. Trabajó dos años como odontólogo generalista siempre mostrando interés en la especialidad de periodoncia. Médico residente en la University of Maryland EEUU.