Técnicas de manejo de seno maxilar. Elevación lateral asociada a los tratamientos con implantes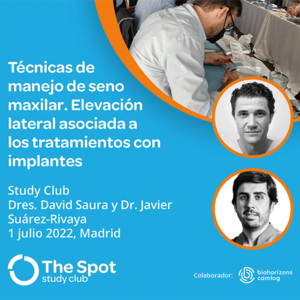 The Spot Study Club nace con el objetivo de proporcionar a los dentistas un medio a través del cual mantenerse al día de nuevos conceptos, últimos materiales, técnicas mejoradas e innovaciones tecnológicas, donde compartir sus experiencias y problemas clínicos, debatir, y poder aplicar la experiencia adquirida a través de la reflexión académica, demostraciones, conferencias de expertos en las diferentes materias y ejercicios prácticos.
The Spot celebrará reuniones tres o cuatro veces al año (según ubicación) y contará con un máximo de 20 miembros por sesión para facilitar el intercambio de ideas y preguntas y desarrollar círculos profesionales de confianza valiosos y duraderos en un entorno informal. Contará además con una plataforma interna para la comunicación continua entre los miembros, donde poder compartir inquietudes, casos y documentación relevante para el grupo.
Estructura de los módulos:
15:45 - 17:15
Abordaje teórico. Principios, bases, técnicas, materiales, toma de decisiones clínicas, resolución de complicaciones, etc.
17:15 - 17:45
Pausa - café
17:45 - 19:45
Taller práctico de las técnicas revisadas en modelos animales
19:45 - 20:45
Discusión, preguntas y aportaciones. Revisión de casos clínicos aportados por los asistentes
20:45
Cena de confraternización
The speakers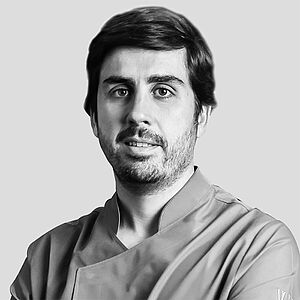 Dr. Javier Suárez-Rivaya
Odontólogo por la UCM. Máster de Prótesis Bucofacial por la UCM. Co-Director de varias tesis doctorales y colaborador en proyectos de investigación. Director Médico en Suárez Rivaya – Instituto Dental.